The decision to replace your tankless water heater is a significant one. You'll need to choose a knowledgeable plumber for the job, and you'll want to make sure the unit is sized and installed correctly.
For reliable water heater replacement services in Orange County, turn to Bill Metzger Plumbing. Our licensed and insured with workers comp and general liability team has over 50 years of experience serving the community.
Give us a call today to request a tankless water heater replacement estimate.
Our Tankless Water Heater Replacement Services
Expect quality equipment and professional services when you choose Bill Metzger Plumbing for tankless water heater replacement.
Here's what this process entails:
Select a fuel: Your primary choices include natural gas and electricity. We also install propane tankless water heaters.
Pick an installation location: In our warm climate, it's possible to install tankless water heaters either inside or outside the home.
Pick a brand: We install some of today's most trusted tankless brands, including Noritz.
Size your water heater: To meet demand, your tankless water heater must have the appropriate flow rate and temperature rise.
Compare efficiency ratings: A higher upfront investment may be required for high-performance equipment, but the resulting energy savings could make the investment worth it.
Replacing your tankless water heater isn't a DIY job—call Bill Metzger Plumbing for the professional service you need!
Signs you Should Replace your Tankless Water Heater
Did you know that around 95% of all water heater replacements are emergency jobs? Very few people pursue a proactive replacement. Instead, they wait for a catastrophic failure that leaves them no choice.
To avoid this sort of plumbing emergency, watch out for some signs that your water heater is on its last legs. This way, you'll have time to browse replacement options at your leisure, ensuring you end up with a model that will suit your family's needs for the next two decades.
Consider replacing your tankless water heater sooner rather than later if:

The unit is approaching 20 years old.
You notice steadily rising water heating costs.
You're tired of needing tankless water heater repairs.
Call Bill Metzger Plumbing to discuss the possibility of replacing your tankless water heater.
FAQS about tankless water heater replacement
Find the answers to your most pressing questions here:


If you already have the necessary plumbing and venting, the process should take no longer than one to three hours.


Be sure to compare warranties when selecting your replacement unit.


Tankless models typically run a bit higher than comparable storage tanks, but lower energy bills and a longer life span help offset the cost.


We are available 365 days a year, including holidays, and we offer same-day service, when possible, to expedite the replacement process.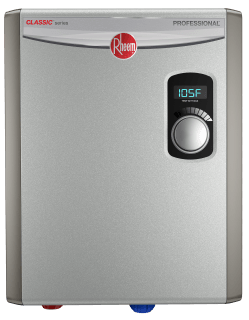 Call today to find out more about replacing your tankless water heater.
Contact Bill Metzger Plumbing for Water heater replacement services in orange county
With over half a century of experience, the plumbing experts at Bill Metzger Plumbing are well-equipped to handle all your water heating needs. You'll always receive honest, upfront pricing and no hidden fees tacked on at the end. We are dedicated to delivering excellent customer service and back everything we do with a 100% satisfaction guarantee.
If you think it's time for a tankless water heater replacement in Orange County, call our trusted plumbers or request an estimate online.