If you're looking for the best water heater system to install in your Orange County-area home, Rheem is the brand you need. At Bill Metzger Plumbing, our team offers the top-quality Rheem water heater units that your home needs for reliable hot water access. From tankless water heaters and solar systems to traditional storage tank units, Rheem has a water heater solution to suit virtually any budget or performance expectation.
When you're seeking a new water heater for your Irvine, CA, home, find the solutions you need with the Rheem products that Bill Metzger Plumbing provides. Contact us to schedule Rheem water heater installation or replacement!
Rheem Water Heater Installation & Replacement in San Clemente
As an industry-leading water heater manufacturer, Rheem Manufacturing Company is proud to offer a broad range of products suitable for nearly any San Clemente home. We proudly carry the full Rheem product line, including the following water heater solutions.
Tankless Gas Water Heaters
Rheem's tankless gas water heaters offer an excellent solution for Orange County families seeking on-demand hot water. These tankless gas water heaters provide long-term energy savings, unlimited hot water, increased storage space, and temperature control, making them second to none.
We offer the following tankless gas water heater products by Rheem:
Prestige Condensing Rheem Tankless Gas H95 Series
Rheem RTG-95
Rheem RTG-84
Rheem RTG-64
Tankless Electric Water Heaters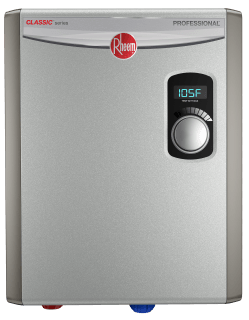 In addition to the gas-powered tankless water heaters, Rheem also offers the following tankless electric water heater solutions within its lineup:
RTEX 27
Rheem RTEX 18 Series
RTEX 13 Series
RTEX 9 Series
RTEX 7 Series
RTEX 3 Series
Solar Water Heaters
If you're looking for an even more energy-efficient method for heating your home's water supply, Rheem's solar water heater solutions may be the answer.
From on-demand solar water heating to storage tank systems, there's bound to be a solar water heater to meet your unique needs:
SolPak
SolPak with Marathon Tank Series
Solaraide Passive Solar System
Solar Indirect Series
Universal Solaraide Series
Solaraide HE Series
Marathon Thermal Storage Tanks
electric water heaters
Rheem also offers plenty of traditional storage tank water heaters for those who require a more standard setup in their homes.
Bill Metzger Plumbing provides the full line of Rheem electric water heaters, including:
Rheem Professional Electric Series
Marathon Series
Marathon Thermal
Fury Electric Series
Rheem Marathon Point of Use Series
Point of Use Series
Rheem Tabletop Series
Imperial Electric Series
Warrior Series
Wondering which Rheem water heater is right for your San Clemente home? Contact the professional plumbers at Bill Metzger Plumbing to schedule a water heater installation! Call to schedule.
Why Choose Rheem Water Heaters for your Huntington Beach Home?
Since 1925, Rheem has provided the superior water heating products that Huntington Beach families deserve. The brand offers industry-leading technologies in water heating that you won't find anywhere else. A leading name offering a broad range of innovative systems, Rheem stands out for its reliability and rigorous quality control standards.
Bill Metzger Plumbing is proud to carry products from a brand with deep roots in the Orange County area — just like ours. When you're looking for a superior water heating system, we highly recommend choosing Rheem water heater installation with our team. Call us to learn more about our Rheem water heater solutions!
Schedule Rheem Water Heater Installation in Orange County!
For reliable access to hot water, Rheem water heaters are the solution that your Orange County home needs. Bill Metzger Plumbing is proud to offer families access to the Rheem products they need to remain connected to their hot water supply. If you're interested in installing a Rheem water heater in your Orange County home, call!