When you need a reliable plumber in Midway City, look no further than Bill Metzger Plumbing. After serving Orange County for over 50 years, we pride ourselves on possessing the most extensive plumbing knowledge in Midway City. When we come to your Midway City home, we look for the most time-saving and cost-effective methods to eliminate your plumbing problems.
When you choose Bill Metzger Plumbing, you're choosing:

Reliable service – Our toll-free hotline is available 24 hours a day, seven days a week. A qualified, approved contractor will arrive at your house within 24 hours of your call.
Reliable Technicians – Our technicians are all background checked, drug tested, and highly trained.
Guaranteed Cleanliness – We respect you and your property.
Same Day Service – Call before noon and get service today! We also offer emergency service on nights and weekends.
Complete Satisfaction – All services are backed by a 100% customer satisfaction guarantee.
An A+ Rating with the BBB – Earned with years of consistently superior service.
There's a long list of problems that can occur in any home – running toilets, leaking faucets and pipes, water heaters leaving you with cold water, and low water pressure. When these problems strike, call Bill Metzger Plumbing for prompt and effective service. We've seen just about everything and know how to fix it all!
For reliable plumbing repair, maintenance, or installation in Midway City, call Bill Metzger Plumbing.
Emergency Plumbing Repair Service in Midway City
Many plumbing issues can't wait for regular business hours. Flooding, sewage backup, and clogged sewer lines are just a few of the potential issues that can rapidly cause catastrophic damage to your Midway City home. Fortunately, Bill Metzger Plumbing offers 24/7 emergency plumbing repair service so we can be there whenever you need us. Just call our service hotline and our technicians will arrive promptly to handle the situation with speed and care.
Plumbing Inspections in Midway City
Maintaining your home's plumbing can prevent emergencies like leaks and water heater breakdowns. Bill Metzger Plumbing offers affordable plumbing inspections in Midway City to help you save on repair costs and get peace of mind knowing that your home's plumbing is sound.
During a Plumbing Inspection, We Will Inspect Your:


Check for leaks, weak spots, and potential problem areas.


Emergency water shut-off, drain valve, thermostat, gas/electric connections, temperature, and pressure relief valve, temperature setting, gas thermocouple, emergency gas shut-off, flue pipe, and draft.


High pressure can damage a water heater or cause a pipe to burst in your plumbing system over time, including washing machine hoses.


Check sinks, faucets, tubs, shower, dishwasher, disposal, toilets, etc. for leaks and proper function.


Tested for hardness and emergency water shut-off operation.


Check emergency water shut-off, drain, and hoses.
Don't neglect your home's plumbing! Call us today to schedule a plumbing inspection in Midway City.
Tank-Type & Tankless Water Heater Services in Midway City
Hot water is essential to your family's health and comfort. If your water heater has broken down or is not heating your water like it used to, give us a call for an inspection and repair. If your water heater is working well but you find yourself taking cold showers frequently, it may be time to upgrade to a tankless water heater to ensure that hot water is always available when you need it. At Bill Metzger Plumbing, we carry and install the best tankless water heaters on the market.
Whatever your water heater needs, count on Bill Metzger Plumbing to keep the hot water running in your home.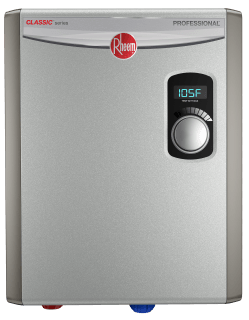 Water Heater Repair – Hundreds of Midway City network of repair service professionals. Our local pros receive ongoing training and have access to millions of repair parts for the most popular water heater brands, so you get the best of Bill Metzger Plumbing. Right around the corner in the Midway City, CA area, schedule your water heater repair service today.
Water Heater Replacement – We are one of the few water heater installation companies in Midway City that are certified and highly recommended. We provide quality water heaters, as well as basic installation, repairs, or disposal of your old unit.
Water Heater Inspections – The life expectancy of the average water heater is 8 to 12 years for gas and oil, 10-15 for electrical, solar, and geothermal, and over 20 years for tankless (made of stainless steel). Extend your water heater's life by having annual inspections done to correct minor issues and prevent breakdowns.
For water heater repair, water heater replacement, or water heater maintenance in Midway City, call the experts at Bill Metzger Plumbing.
Water Pump Services
Bill Metzger Plumbing is one of the oldest water pump rebuilders in the US. If your water pump is broken or is not performing well, call us to inspect it. We'll get it back in working order in no time!
Water pump repair – We specialize in water pump repair and will get yours running smoothly in no time!
Water pump rebuilding – For over half a century, we have rebuilt countless water pumps for residential and industrial clients.
Sump Pump Services in Midway City
Your sump pump keeps water from getting into your basement and damaging your home or ruining your possessions.
The plumbers of Bill Metzger Plumbing have the experience to handle the following:
Sump Pump Installation
Sump Pump Repair
Sump Pump Maintenance
Sump Pit Install
Sump Pump Battery Backup System
Your sump pump must be properly sized and installed correctly. We make sure that we use brands that can endure pumping water 24 hours a day, 365 days a year.
Plumbing Fixture Repair & Replacement in Midway City
Your plumbing fixtures are both ornamental and functional. They can greatly impact the look of your home by complementing or clashing with its style. They also need to work well 100% of the time to prevent major disruptions in your household. Bill Metzger Plumbing not only repairs and installs plumbing fixtures, but we also carry many that will complement your home and provide a finished look while functioning seamlessly.
We Offer:

Fixture Repair – If you suspect a problem with your toilet, sink, faucet, tub, or any other fixture, we can diagnose the issue and make all necessary repairs. We can also advise you if a replacement is a better option.
Fixture installation & replacement – Whether you are adding a master bath suite, freshening up your powder room, dreaming of a wine cellar, or expanding your kitchen or entertaining area – our skilled staff works with you and your building or design professional to create a one-of-a-kind space. We offer a comprehensive collection of fixtures for your kitchen, bathroom, garage, bar, and home.
Need new plumbing fixtures in Midway City? Call Bill Metzger Plumbing. We also offer plumbing fixture repair for your Midway City home!
Drain Cleaning in Midway City
If you have clogged or slow-draining drains, a drain cleaning can get them flowing smoothly again. Whether it is your kitchen, bath, basement, or toilet, we can handle any drain. We have advanced tools and technology to get to the root of the problem.
We perform drain cleanings on:

Kitchen Drains
Bathroom Sink Drains
Bathtub Drains
Shower Drains

Main Water Lines
Floor Drains
Clogged Toilets
Sewer Drains
Backflow Prevention
Backflow is the reversal in the flow of water from a real or potential source of contamination (such as your sewer line) back to the clean water supply. Backflow preventers safeguard against this extremely undesirable event to avoid situations that can be hazardous to health. Bill Metzger Plumbing carries and installs backflow preventers in Midway City. If you are looking for a backflow prevention system, give us a call today to keep your water and sewage safe and separate.
Pressure Regulators Midway City
Water pressure regulators control both the water pressure and the flow rate of the incoming water supply into your home. Regulators are used to allowing high-pressure water supply lines to be reduced to safe and usable pressures. A properly installed pressure regulator can eliminate many common plumbing problems, saving you both time and money in the long run. A damaged or worn-out pressure regulator can result in dangerously high-water pressure for your home in Midway City. Many common issues can be easily prevented or solved through the installation or replacement of a water pressure regulator.
Problems Caused by High Water Pressure:
Broken or burst pipes that can lead to flooding
Continual sound of running water
Running toilets
Damage to your appliances such as dishwashers, refrigerator icemakers, or washing machines
Banging pipe sounds
Leaking sprinkler valves
High water bills
Our expertly trained professionals can evaluate the unique needs of your plumbing system and determine what solution will be best to keep your water pressure at safe levels.
Leak Detection
If you suspect you may leak somewhere in your home's plumbing, call the professionals at Bill Metzger Plumbing for non-invasive leak detection.
Signs you may have a leak in your home include:

Unusually high-water bills
Water meter continuously running
Inexplicable wet spots near sinks, tubs, or toilets
Decreased water pressure

Water stains on ceilings
Mold or mildew in your home
Peeling/blistering paint or wallpaper
If you notice any of these signs, call Bill Metzger Plumbing for leak detection services in Midway City. Our detection services include a thorough check of the water system, identification of the origin of the leak, multiple estimates for the repair, and a solid guarantee on all services.
Sewer Line & Water Pipe/Line Services in Midway City
The plumbing in your Midway City home relies on two main components to function: your water main, which brings clean water from the municipal water source, and your sewer line, which carries used wastewater away. Both of these essential lines are underground, so most of us never think about them. When one of them experiences a problem such as a clog, break, or collapse, it will throw all of your plumbing into chaos.
The experts at Bill Metzger Plumbing have over 50 years of experience inspecting, repairing, and replacing sewer lines and water lines in Midway City. For leak detection services in Midway City, call Bill Metzger Plumbing.
We provide the following services:


If there are strange smells around your home, spots of unusually green grass in your lawn, or puddles and soft spots in your yard, you may need sewer line repair. You'll know for sure that something is wrong with your sewer line if your toilets are backing up when flushed or your drains aren't draining. If you think you may need sewer line repair, give us a call. Our expert technicians will arrive quickly to inspect your sewer line and make any needed repairs.


If your water is discolored, your water pressure is low, there are puddles in your yard, or you hear a strange gurgling coming from your pipes, you may have a problem with your water line. Call our service hotline if you suspect you need water line repair, and we will arrive within 24 hours to inspect your water line with a non-invasive video camera device. Our experts will quickly make any needed repairs to restore full function to your home's plumbing.


If the damage to your water or sewer line is extensive, replacement may be the best option. We prefer to use the trenchless method whenever possible to avoid digging up your yard. This method uses the existing damaged sewer or water line as a conduit and guide for the new pipe. After the installation of the new pipe is complete, it is simply connected to the existing system. This pipe is a completely root-proof, leak-proof, chemical- and acid-resistant pipe with a 100-year design life.


With this technique, we can install new pipelines in the same or even larger diameter than the pipe being replaced with a minimum amount of digging in your yard.
At Bill Metzger Plumbing, we specialize in and frequently perform water and sewer line inspections, repairs, and replacements. For more information or to schedule a free inspection, please contact us today. Ask about our Sewer Line and Water Line Maintenance Programs to save money and prevent major issues with your sewer line and water line. If you are experiencing a plumbing emergency, please call us right away! We offer 24/7 emergency plumbing service in Midway City.
Call Bill Metzger Plumbing for sewer line repair & replacement or water line repair & replacement in Midway City.
Pipe Repair & Pipe Relining in Midway City
As the pipes of a plumbing system age, these pipes will need to be replaced because of corrosion, rust, leaks, low water pressure, and rusty water. It is important to get pipes fixed as soon as possible, as leaks can cause costly damage that you may not even see until it is too late. At Bill Metzger Plumbing, we are experienced, re-piping specialists. We offer pipe relining as a minimally invasive solution to repair your pipes. Pipe relining is the process of repairing damaged sewer pipes by making a pipe within a pipe to restore the functionality of your pipes. We use an epoxy relining material that molds to the inside of the existing pipe, creating a smooth new inner wall. The relined pipe is seamless and durable, and all materials used in the relining process are non-hazardous.
Gas Line Services in Midway City
It is impossible to predict when a problem will arise with an in-home gas line. But with Bill Metzger Plumbing's in-home gas line repair, you don't ever have to worry about costly, unexpected problems with your lines.
We offer the following gas line services in Midway City:
Gas line repair – Complete line repairs with a 100% guarantee on all parts and problems.
Gas line replacement – Total gas line replacement to prevent and fix dangerous leaks.
Gas leak detection – We locate gas leaks using specialized equipment, then correct the problem while maintaining your gas service if possible.
Earthquake shut-off valves – These valves help to prevent explosions during an earthquake by sensing and measuring the intensity of the earthquake and then shutting off the gas valve if it measures 5.4 or higher on the Richter scale.
Commercial Plumbing Services in Midway City
Bill Metzger Plumbing offers a full host of commercial plumbing services for businesses in Midway City. We recognize that our commercial customers have very special needs—whether it's the installation of industrial plumbing or a fire sprinkler system. With our vision, our skills, and the very latest in tools and technology, we have developed the capabilities and processes to not only satisfy our clients but provide them with value-added services. Our company continues to focus on timely service, fair pricing, and personal attention.
Bill Metzger Plumbing is committed to providing innovative plumbing solutions across all industries. For clients in the food industry, we offer comprehensive grease trap services, including grease trap cleaning, grease collection, disposal of used cooking oil, hydro jetting, and hot water pressure washing.
For more information about our commercial plumbing services in Midway City, call us at 888-586-1008.

Choose Bill Metzger Plumbing for Plumbing Needs in Midway City
When plumbing issues plague your Midway City home, call Bill Metzger Plumbing for quick, effective solutions. Our commitment to delivering reliable and trustworthy service to our customers has led to our reputation as the most trusted plumber in Orange County, CA. When you choose to work with us, you can count on our team to arrive on time and treat you and your home with respect. You'll always know the price of our services before the work begins, which means you'll never find surprise fees or hidden costs on the final bill. All of our work comes with a 100% satisfaction guarantee, so you can rest assured that the job will be done right.
Call Bill Metzger Plumbing for all your plumbing needs in and around Midway City.